FIFA 17 Tips for Win in Weekend League
FIFA 17
Date: Jan/01/17 22:45:57
Views: 140
How about your playing for Weekend League? Do you make progress and play in Division 1 or enter Elite 1? For players who are struggling with Weekend League, here are some tips about player instructions, work rates and so on.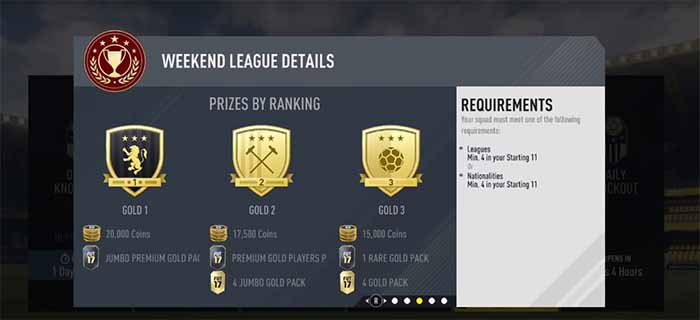 For the formation, you can have a try with 4321 formation, or find a formation that suits your playstyle. The following is consistent with the 4321 formation.
Player Instructions:
Fullbacks stayback while attacking. Push them go forward when you manually trigger a run to provide support to the wide cms. Keep at least 3 at the back. 80+pace, 70 physical (high stamina) to cover elite wingers.
CB's: conservative interceptions, especially for players like ramos with high attacking work rates...this allows them to get back without pressing for an interception, from attacking set pieces, in particular this can prevent counter attacks. They are required to be strong, 65+pace, 70+composure to avoid weird AI errors.
CM's: Central CM Stayback while attacking, which will help the custom tactics have more of an effect and allows the cbs to cover the fullbacks when they push forward. Central CM must be good in air for goal kicks and strong to hold up ball, be able to dictate the tempo of the game as all attacking moves will start through him. The wide CM's stay at edge of box for crosses to intercept clearances. They muust be mobile and good on the ball.
Wide Forwards: get in behind press back line. You need preferably over 85 pace and dribbling here to stretch defences that sit deep and get in behind high lines on the counter. This is the key position to counter high pressure and park the bus tactics.
ST: stay central, press back line. The Striker needs to to be able to do everything, quick strong good on the ball and air, such as Ronaldo, Bale, SIF Benteke.
Custom Tactics you use:
Build up play
Speed: 70
Passing: 20
Positioning: Organised
Chance creation
Passing: 70
Shooting: 40
Crossing: 60
Positioning: Organised
Defence
Pressure: 60
Aggression: 40
Team Width: 40
Defender line: Cover
For the preferred work rates, here are references.
ST: high /low, medium /low, high /medium
Wide Forwards: high /low, high/ medium (bale, cuadrado, reus, willian and kono exceptions)
Wide CM's: high/ medium, high/ high medium/high
Central CM: medium /high,high /high ,med/med
Fullbacks: high /medium, high/high
CB's: medium /high ,medium /medium, high /high, high /medium
There are also some tips for defending and passing for Weekend League. To defend, the main key is to track every run possible by holding lt and rt to fast jockey, track the run manually and double press to pressure passer for hard passes for easy passes put defender in line of pass switch to next player near the next passing lane letting the ai continue to track the previous run. To pass, driven pass for anything over 10 yards, hold lt when receiving to control ball. And use rb when using chipped/normal through ball for more accuracy (less power) and curve.
You can take a look and get some useful information. What's more important, you get your own tactics and insist. Be confident about yourself. Happy New Year. The promotion on fut16coin.com will be invaild in Jan,10th 2017, so hurry up and get fifa coins cheapest. The discount code is "FIFA2017". That will give you 5% discount!